Enjoy from Banff's vast nature to BC's magnificent mountains and hot springs at an affordable price!
Relieve your fatigue by spending some relaxing time that was hard to enjoy in the city center!
  Schedule  
8 am  Meet at Olympic Park -> Cascade Pond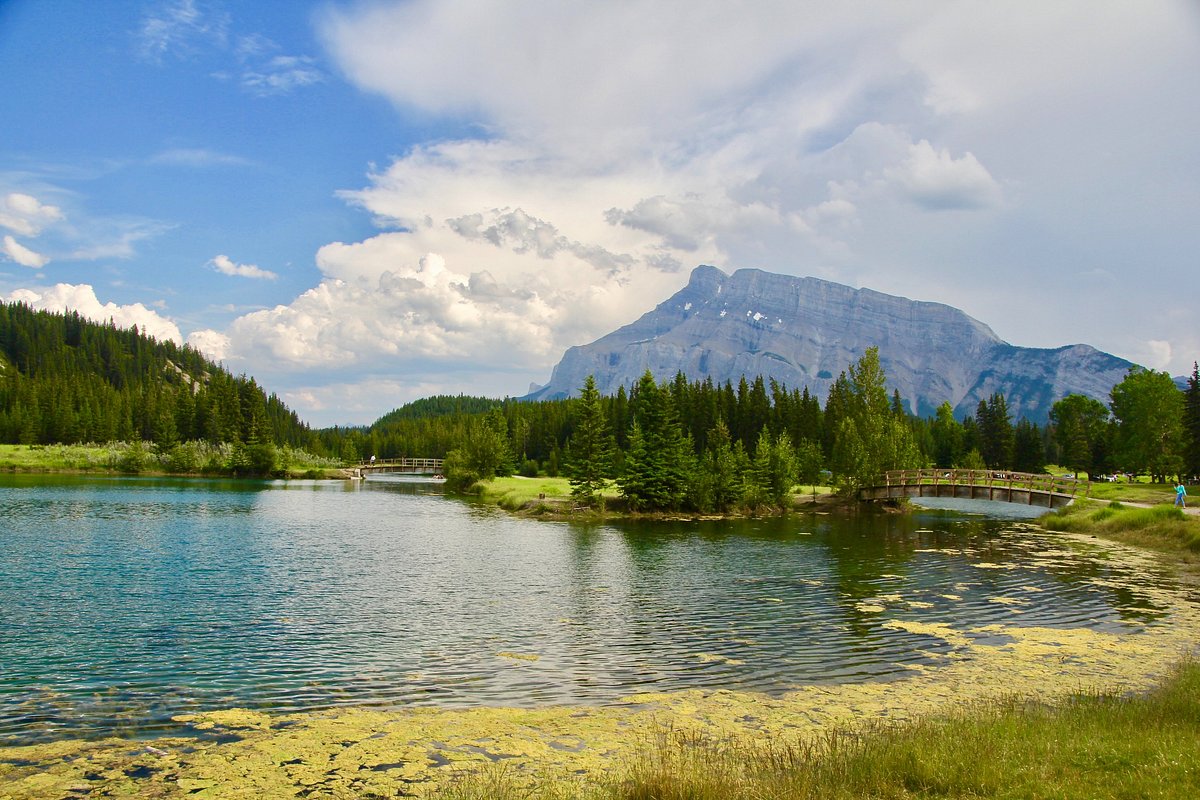 Cascade Pond is a beautiful and peaceful area with ponds, bridges, and mountain views. The scenery is nice, not far from the village and it is a good place for picnics and relaxation. There are even tables and barbecue places for cooking and eating outdoors.
-> Norquay View Point
Climbing Norquay Mountain gives you a panoramic view of Banff Village. It's perfect for dating courses with an open view that's.
-> Castle Mountain
Castle Mountain is a mountain located within Banff National Park in the Canadian Rockies, approximately halfway between Banff and Lake Louise. The mountain was named in 1858 by James Hector for its castle-like appearance. The peak in the southeast of the mountain was named Eisenhower Tower in honor of the general of World War II.
-> Numa Falls 
Numa Falls is a waterfall of the Vermilion River located in Kootenay national park, BC, Canada. It can be seen on Banff - Windermere Highway 93, which connects Banff National Park and radium hot springs. It's not a big waterfall, but the deep canyon forms a beautiful panorama. It is also where you can see snow piled up like whipped cream in winter.
-> Lunch -> Radium Hot Springs 
It boasts a long history as a hot spring surrounded by natural stone walls. Clean facilities can be used because of constant management. Some places have shallow water, so it is also good for bringing children. There are many travel destinations nearby, so it is in a perfect position to stop by in the middle to relieve fatigue while traveling. 
-> Katooney view point
-> Banff (Dinner) -> Calgary (Arrived at 8 pm)
Lunch and dinner are included in the price.
---
Don't take our word for it
★★★★★

I live in Calgary, but I didn't know there were so many different destinations in Calgary. Thanks to you, I got to know good tourist attractions and had delicious meals. Thank you.
★★★★★

Canada is a very nature-rich and peaceful country. I learned a lot about Canada through the trip. I think I will discuss immigration to Canada with my family.
★★★★★

The winter memories in Canada were so special and good. Thank you very much to making a wonderful trip to Canada.