Look around Banff's nature for spring!
A special opportunity to capture the waterfalls where the snow melts in the warm sunlight and begins to flow!
Let's all enjoy it with a car that can accommodate up to 14 people!
  Tour Schedule  
8 am : Depart from the meeting place
* Meeting place :  Across from C.O.P., A&W parking lot 

 

(

840 Bowfort Rd NW, Calgary, AB T3B 4T1)
-> Tunnel Mountain View Point
🌼 
Tunnel Mountain View Point 🌼
Tunnel Mountain View Point is a viewpoint located within Banff National Park in Alberta, Canada. At this viewpoint, visitors can enjoy various beautiful views such as Banff town, Scotia Falls, Banff Mountain, Fairmont Banff Springs hotel, and more. This place is also one of the most famous sunrise and sunset spots in Banff, where visitors can enjoy views with different hues depending on the changing light.
-> Bow Falls
The area around Bow Falls is known for its beautiful natural landscape, with the stunning mountains and forests of Alberta, Canada surrounding it, making it a popular spot for people to take a walk and enjoy the scenery. Additionally, this location is a popular destination for tourists, as it was used as a filming location for the movies "The River of No Return" and "The Marriage of Maria Braun."
-> Lake Louise
🌼 'Lake Louise' called the Pearl of Rocky Mountain 

 

🌼
Lake Louise is a world-famous natural landscape known for its clear emerald-colored water.

Surrounded by high mountains, snow-capped peaks, and beautiful turquoise water, Lake Louise is considered one of the most beautiful natural landscapes in Canada. There are walking and hiking trails around the lake, allowing visitors to leisurely stroll and enjoy the beauty of the lake. Additionally, there are various activities to enjoy around the lake, such as fishing, canoeing, kayaking, paddle boarding, and snowshoeing, which are popular among tourists.
🌼 Option: 
gondola experience
🌼
Adult: $65/P, Child: $40/P
(Estimated operating period: April 15th - October 7th)
-> Natural Bridge
Natural Bridge is a natural landscape formed by river erosion of rhyolite and limestone. The area has hiking trails and observation decks that allow visitors to enjoy the beautiful scenery from various angles. Visitors can also enjoy water sports such as rafting or kayaking in the river, and in winter, they can enjoy ice walking on the frozen river.
-> Emerald Lake (Lunch)
Emerald Lake is a lake created by ice flakes that followed the melting and flowing of glaciers blocking the river. Lake Emerald in Banff National Park in the Canadian Rockies is a superb view of lakes and mountains. The green lake is like a natural gem left in the world and has a curious glow. This left the world with an unimaginable beauty as a result of the melting water of the surrounding glaciers and snow peaks and the mineral interaction of the lake's bottom tens of thousands of years ago.

There are several trekking courses, and there are many clean and cozy accommodations near the lake to enjoy the natural scenery to the fullest.

-> Field
🌼 Field 🌼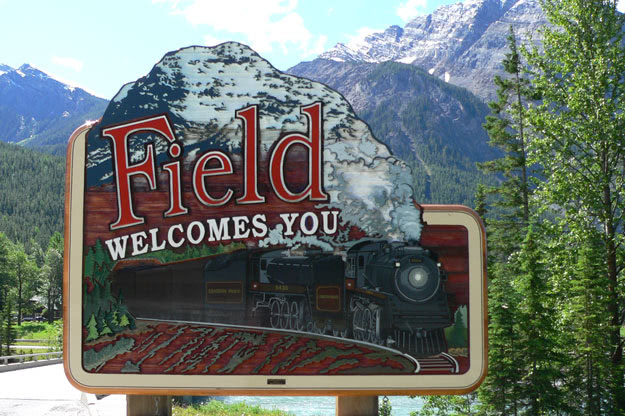 Field is a small village located in a protected area with alpine mountain terrain, tundra, and rare biological conditions such as the alpine tree line, and it is a popular destination for nature and environment lovers.

In Field, visitors can enjoy various outdoor activities such as backcountry skiing, canoeing, hiking, camping, and stargazing. There is a famous hiking trail called Lake O'Hara nearby, and this area is also used as a base camp for Mount Forbes, the highest mountain in Alberta.

-> Peyto Lake
Peyto Lake is a famous lake known for its shining turquoise color, which is created by minerals originating from the mountainous terrain mixing with the water. The lake is surrounded by high mountains, snow-covered peaks, and beautiful natural scenery such as blue pine forests.

There are hiking trails around Peyto Lake, and it takes about 40 minutes to walk around the lake. Additionally, various outdoor activities are available in the lake area, including fishing, hiking, camping, snowshoeing, and snowmobiling. These activities are popular among visitors.
-> Banff (Dinner)
8: 30 pm :  Calgary
---
Don't take our word for it
★★★★★

I live in Calgary, but I didn't know there were so many different destinations in Calgary. Thanks to you, I got to know good tourist attractions and had delicious meals. Thank you.
★★★★★

Canada is a very nature-rich and peaceful country. I learned a lot about Canada through the trip. I think I will discuss immigration to Canada with my family.
★★★★★

The winter memories in Canada were so special and good. Thank you very much to making a wonderful trip to Canada.