C&K World Tour, the travel agency that brings you happiness. We create

#small trips

#unseen essentials

#delicious food

#happy smiles

for you to meet.
  Day 1 

 Calgary ➢ Banff

 ➢ Lake Louise ➢ Jasper
8:00 am Meet at the A&W parking lot (840 Bowfort Rd NW. Calgary AB T3B4T1)
11:20 am Arrived at Banff Norquay Pass, where you can see the entire town of Banff at a glance.
12:00 pm Arrive at Lake Louise -> Lunch (Hotel lounge)
❖ Lake Louise ❖
Lake Louise is a world-famous natural landscape known for its clear emerald-colored water.
Surrounded by high mountains, snow-capped peaks, and beautiful turquoise water, Lake Louise is considered one of the most beautiful natural landscapes in Canada. There are walking and hiking trails around the lake, allowing visitors to leisurely stroll and enjoy the beauty of the lake. Additionally, there are various activities to enjoy around the lake, such as fishing, canoeing, kayaking, paddle boarding, and snowshoeing, which are popular among tourists.
❖ Gondola Experience (Adult: $65/P, Child: $40/P) ❖
(Estimated operating period: April 15th - October 7th)
1:30  pm Departure Lake Louise -> Bow Lake
❖ Bow Lake ❖
Bow Lake is a glacier-fed lake located in Banff National Park, Canada. The lake is known for its stunning turquoise-blue color and the surrounding picturesque mountain scenery. The lake is easily accessible by car, and there is a parking lot available for visitors. There are also several hiking trails in the area for those who want to explore the wilderness. Bow Lake is a popular spot for fishing and canoeing in the summer, and ice fishing and skating in the winter. It is a must-visit destination for nature lovers and outdoor enthusiasts.
2:00 pm Peyto Lake (Jasper)
❖ Peyto Lake ❖
Peyto Lake is a famous lake known for its shining turquoise color, which is created by minerals originating from the mountainous terrain mixing with the water. The lake is surrounded by high mountains, snow-covered peaks, and beautiful natural scenery such as blue pine forests.
There are hiking trails around Peyto Lake, and it takes about 40 minutes to walk around the lake. Additionally, various outdoor activities are available in the lake area, including fishing, hiking, camping, snowshoeing, and snowmobiling. These activities are popular among visitors.
3:00 pm Icefield Parkway -> Jasper Skywalk
❖ Icefield Parkway & Jasper Skywalk ($183/P) ❖
Ride aboard one of only 23 special snowmobiles in the world designed exclusively for backcountry exploration. After about 20 minutes of free time on the Athabasca Glacier, with an ice thickness of 300m. Sightseeing around Athabasca Valley Glacier, Snow Dome Glacier, Athabasca Mountain, etc.
A special experience to view the expansive and magnificent view of the Rockies from an all-glass floor.
4:00  pm Jasper SkyTram
❖ Jasper SkyTram (70$/P) ❖


(Operating period: March 20th - October 31st)

Located 10 minutes from Jasper Town, it is the longest and highest cable car in Canada at 2,263M. All sides are made of glass, so you can feel the overall nature of the Rockies as it is. When you arrive at the top, there are observation decks located on both sides of the tram platform so that you can see the mountains and lakes. You can see Pyramid Lake, Patricia Lake, Cabin Lake, and Caledonian Lake.

5:00  pm Maligne Lake / Maligne Canyon
❖ Maligne Lake ❖
You can take a cruise within Lake Maligne and tour 'Spirit Island,' also known as the 'Island of Mystery.' It is the largest lake in Jasper and the largest natural lake in the Rockies. The island is considered sacred and believed to be inhabited by spirits by the indigenous people who performed sacred ceremonies there, hence the name 'Island of Mystery.
❖ Maligne Canyon ❖
Explore the Maligne Canyon, where you can enjoy the picturesque town of Jasper, stunning red cliffs, and charming waterfalls.
6:00 pm Jasper Dinner
7:00 pm Miette Hot Springs (Admission included)
❖ 

Miette Hot Springs

 ❖


Miette Hot Springs, located in Jasper, Canada, opened about 80 years ago and the water from the hot springs has a temperature of about 53 degrees Celsius. The hot springs are rich in minerals, especially calcium, magnesium, sodium, and hydrogen carbonate, which have a positive impact on health. Miette Hot Springs has two pools, one filled with regular water and the other with slightly salted water.
9:30 pm Arrive at Hotel
  Day 2 

 Jasper

 

➢

 Banff ➢ Calgary
8:00 am Hotel Breakfast -> Jasper Tour
9:00 am Sunwapta Falls
❖ Sunwapta Falls ❖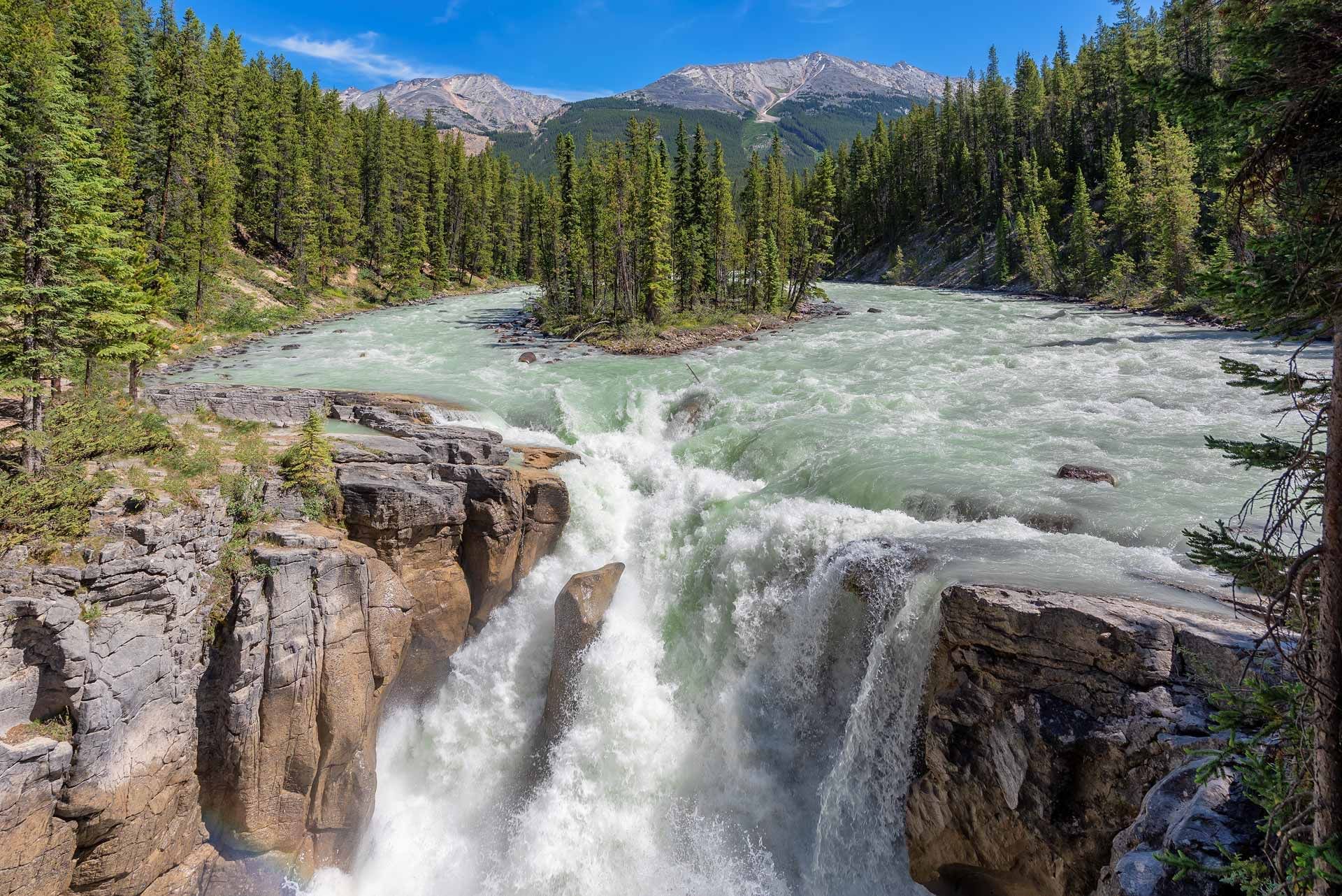 Sunwapta Falls is a waterfall that is approximately 18 meters high and located about an hour's drive from Banff. Sunwapta means "turbulent water" in the language of Canadian indigenous peoples. The waterfall is famous for its beautiful emerald-green water. To enjoy the waterfall, visitors must follow a hiking trail, and there is also a viewing deck where they can see the waterfall from various angles. In addition, there are facilities such as a parking lot, a cafe, and a Sunday brunch buffet near Sunwapta Falls, making it easily accessible for travelers.
10:00 am Athabasca Falls
❖ Athabasca Falls ❖
It is not the tallest waterfall, with a height of 23M, but it is famous as the most powerful waterfall in the Canadian Rockies. You can walk easily with a simple EASY COURSE, and many VIEW POINTs are good for taking pictures.
11:00 am Saskatchewan River crossing
❖ Saskatchewan River crossing ❖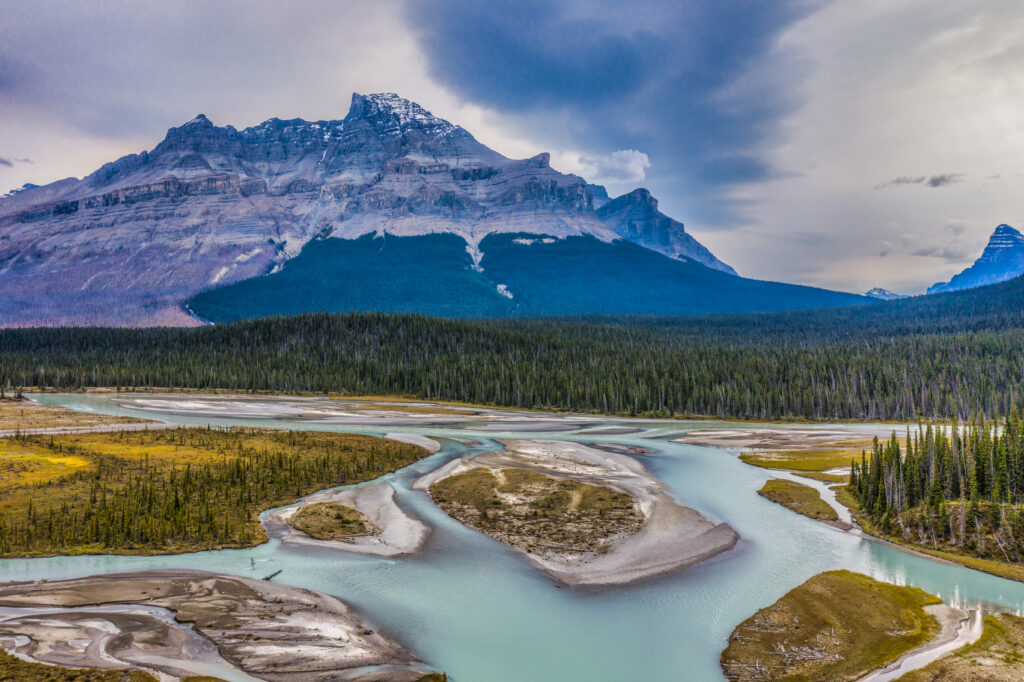 Saskatchewan River Crossing is a small community located in the province of Alberta, Canada, along the Icefields Parkway (Highway 93). It's situated at the junction of the David Thompson Highway (Highway 11) and the Icefields Parkway. There are also several outdoor activities available, such as hiking, fishing, and camping. It's also a common stop for those traveling between Banff and Jasper National Parks, as it's roughly halfway between the two.

12:00 pm Takakkaw Falls
❖ Takakkaw Falls ❖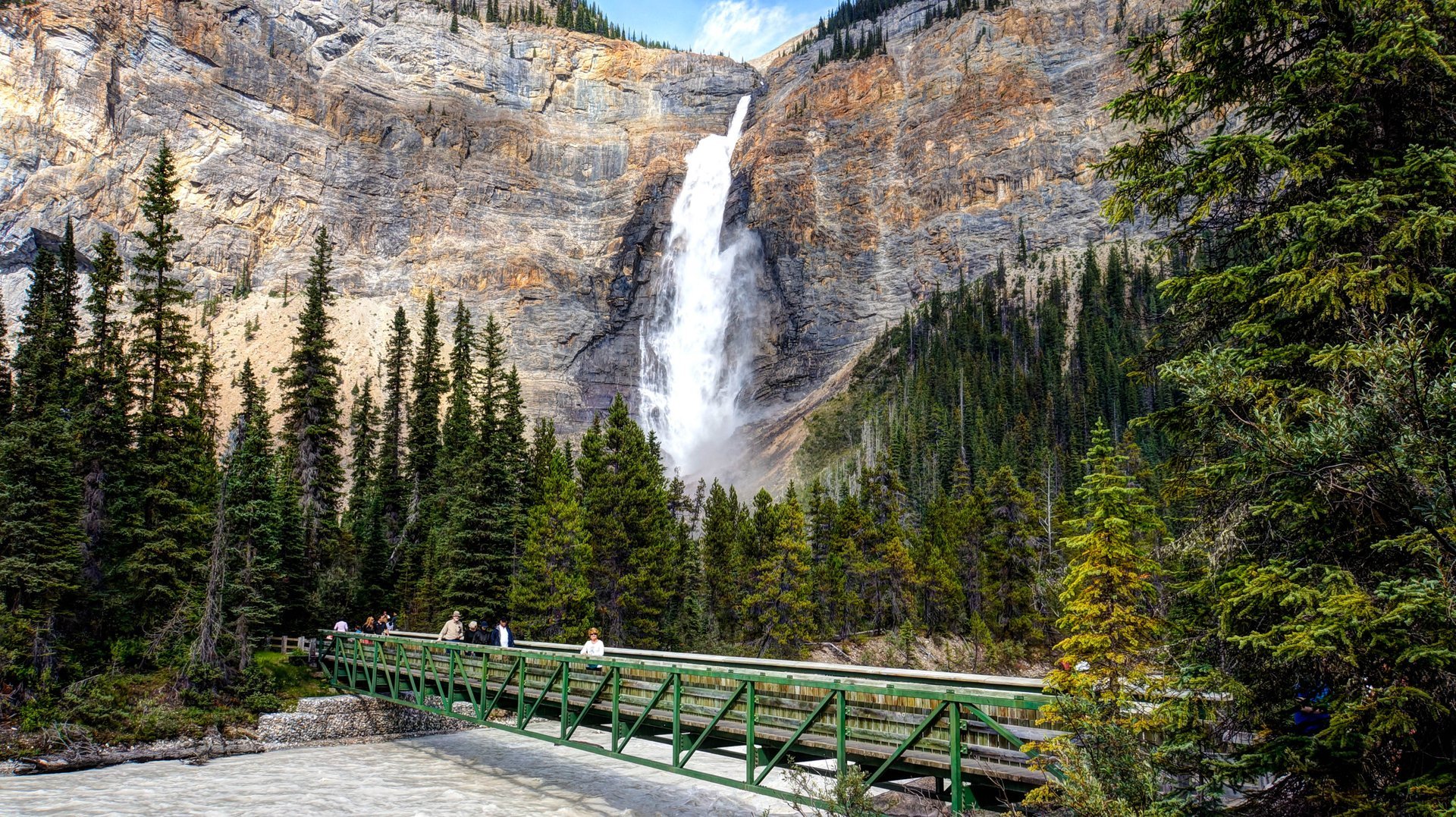 Takakkaw Falls is a 373m-high waterfall located in British Columbia, Canada. "Takakkaw" means "it is magnificent" in the local indigenous language. It is a popular tourist destination, with various hiking trails that are also popular among hikers. Facilities such as parking lots, campgrounds, and restrooms are available near the waterfall, making it easily accessible. To enjoy Takakkaw Falls, visitors can take a short hike. It is an ideal place to appreciate the beauty of nature at its best.
1:00  pm Natural Bridge


❖ Natural Bridge ❖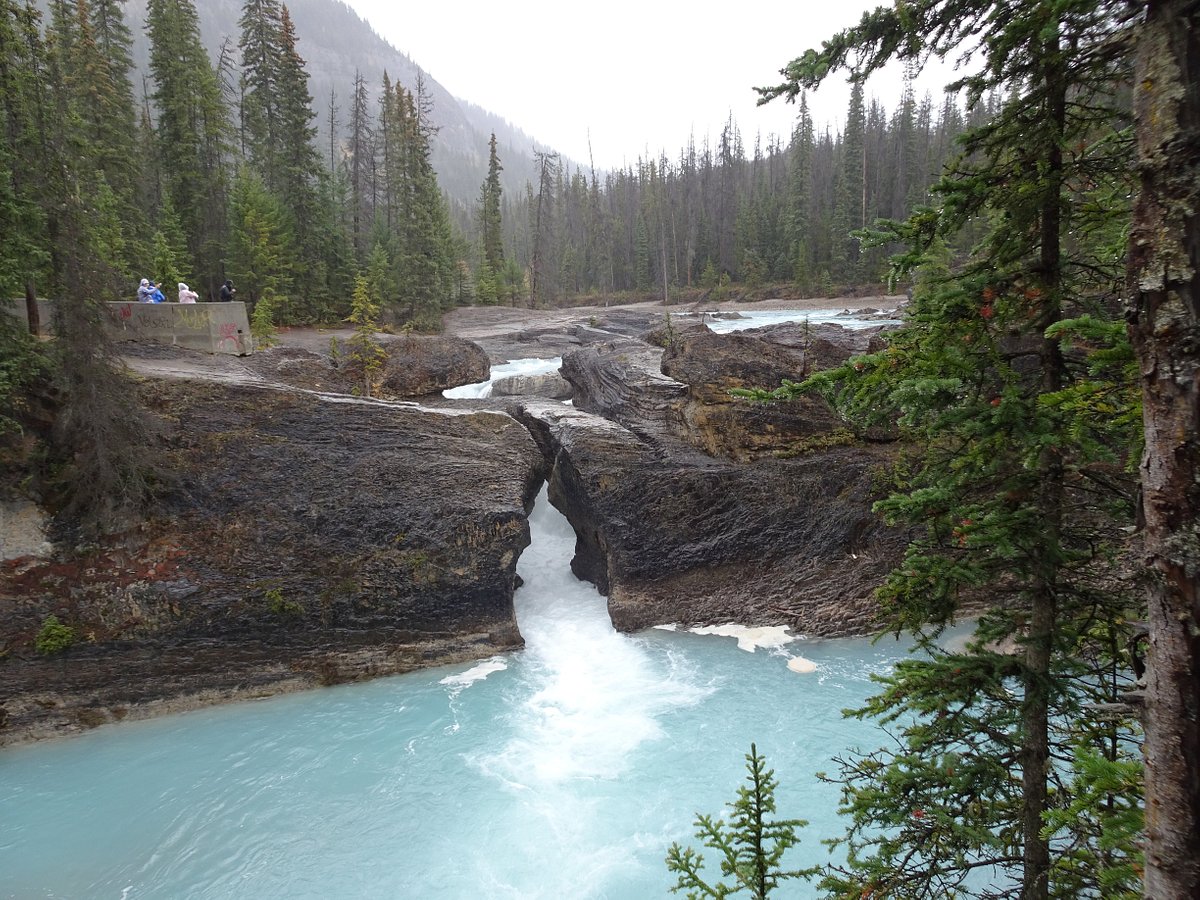 Natural Bridge is a natural landscape formed by river erosion of rhyolite and limestone. The area has hiking trails and observation decks that allow visitors to enjoy the beautiful scenery from various angles. Visitors can also enjoy water sports such as rafting or kayaking in the river, and in winter, they can enjoy ice walking on the frozen river.
1:30  pm Emerald Lake (Lunch)- Free diet
❖ Emerald Lake ❖
Emerald Lake is a lake created by ice flakes that followed the melting and flowing of glaciers blocking the river. Lake Emerald in Banff National Park in the Canadian Rockies is a superb view of lakes and mountains. The green lake is like a natural gem left in the world and has a curious glow. This left the world with an unimaginable beauty as a result of the melting water of the surrounding glaciers and snow peaks and the mineral interaction of the lake's bottom tens of thousands of years ago.
There are several trekking courses, and there are many clean and cozy accommodations near the lake to enjoy the natural scenery to the fullest.

2:00 pm Lake Louise / Moraine Lake Shuttle (Shuttle fee included)
❖ Moraine Lake ❖
Moraine Lake reaches its highest level by the end of June because it is a lake where glaciers melt. The water of the lake reflects the powder of the rock flowing from the surrounding glaciers, giving off a unique blue light, and it is also at its peak around June.
There are mountains surrounding Lake Moraine, waterfalls, and rock files. In the lake, you can canoe or hike along several courses. Among them, the view of the lake from the top of the Rockfile Trail was also featured on Canada's $20 bill between 1969 and 1979, so it is known as the "Twenty Dollar View."
4:00 pm Banff Tour: Bow Falls / Minnewanka Lake / Two Jack Lake
❖ Bow Falls ❖
The area around Bow Falls is known for its beautiful natural landscape, with the stunning mountains and forests of Alberta, Canada surrounding it, making it a popular spot for people to take a walk and enjoy the scenery. Additionally, this location is a popular destination for tourists, as it was used as a filming location for the movies "The River of No Return" and "The Marriage of Maria Braun."
❖ Minnewanka Lake ❖
Representative attractions of romantic travel. Minnewanka is the largest lake in Banff and is also known as the Lake of Spirits. Taking a cruise on a calm lake is the best way to feel the charm of the Canadian Rockies even more beautifully. The cruise captain and guide's explanation of Lake Minnewanka are interesting throughout the cruise.
❖ Two Jack Lake ❖
Two Jack Lake is one of the beautiful lakes in Banff, Canada. The lake is located about a 10-minute drive from downtown Banff and offers facilities such as a panoramic parking lot, a campground, and picnic tables. The area around Two Jack Lake has walking and biking trails that are perfect for enjoying nature. Additionally, water sports such as kayaking, canoeing, and stand-up paddleboarding can be enjoyed on the lake.
6:00 pm Canada's First National Park, Banff National Park / Dinner
❖ Canada's First National Park, Banff National Park ❖
You can enjoy the beauty of unspoiled nature in the town of Banff, designated as a UNESCO World Heritage Site.


Tour to the heart of Banff after sightseeing
- Fairmont Banff Springs Hotel, a castle hotel with a history of more than 100 years
- Bow Falls, the filming location of 'The River of No Return starring Marilyn Monroe

7:00 pm Departure Banff
8:30 pm Arrive in Calgary
---
Don't take our word for it
★★★★★

I live in Calgary, but I didn't know there were so many different destinations in Calgary. Thanks to you, I got to know good tourist attractions and had delicious meals. Thank you.
★★★★★

Canada is a very nature-rich and peaceful country. I learned a lot about Canada through the trip. I think I will discuss immigration to Canada with my family.
★★★★★

The winter memories in Canada were so special and good. Thank you very much to making a wonderful trip to Canada.